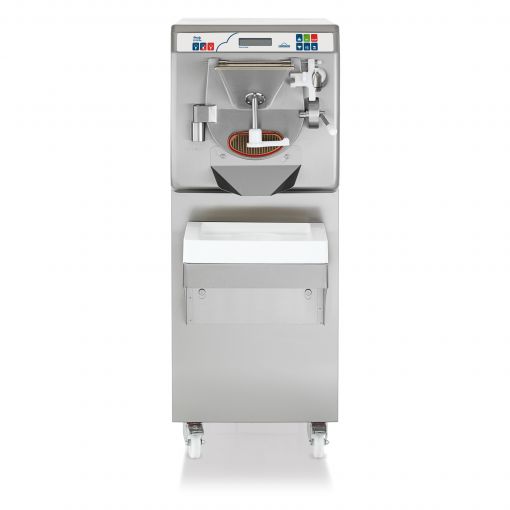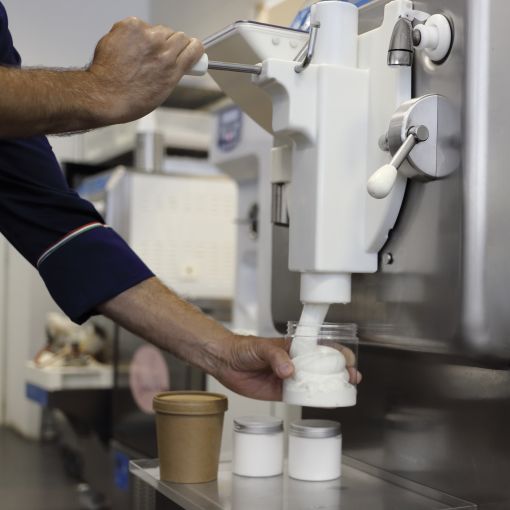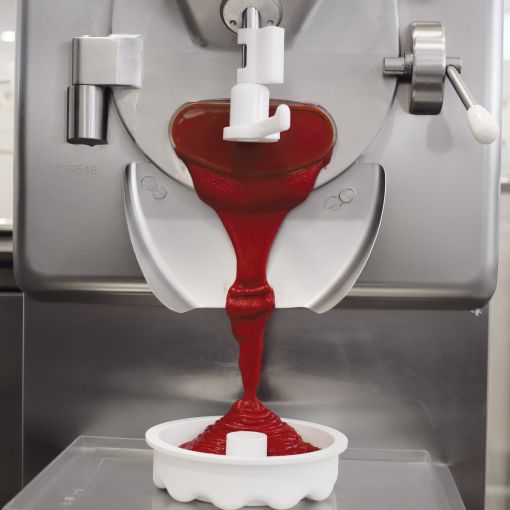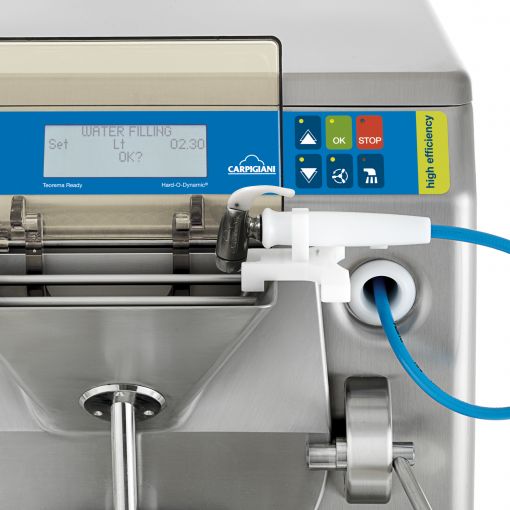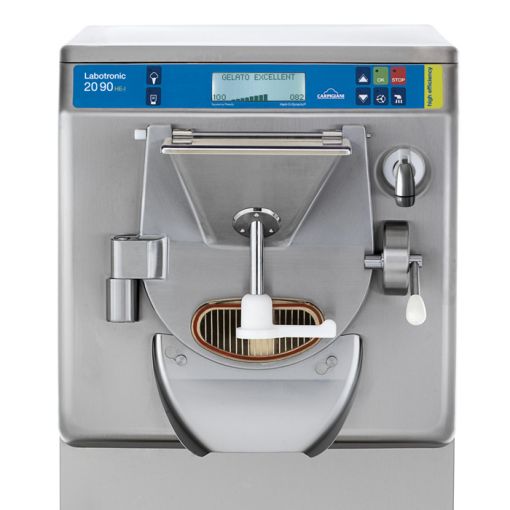 Floor standing Maestro 2* HCD batch freezer with heating for multiple pastry, cream and chocolate programs, minimum 2.5kg and maximum 7.5kg liquid added per batch. The Maestro HCD is the batch freezer with hot and cold dynamic programs. Not only does the Maestro HCD have all the standard programs for the production of gelato and sorbet, it also has multiple programs for pastry production. The Maestro HE has 14 gelato programs, including six for gelato, two for slush and six for toppings and sauces. If you wish to use the Maestro HCD for pastry and chocolate you have a choice of 18 programs, six for pastry creams, six for working chocolate and six for speciality desserts.
43 complete gelato and pastry processes to make a wide variety of excellent specialties
Beater without central shaft and with POM blades for the total extraction of the gelato.
Self-regulating scraper blades for constantly cleaning the cylinder and maximizing yield.
Post-cooling: activation of cold temperatures during extraction to maintain the consistency of the gelato.
LCD display: shows the ingredients to be added during production to facilitate the operator in the execution of the recipes.
Recipe book supplied with the machine.
Use of the machine while always standing straight.
Stainless steel sprayer with lock at the front of the machine, to facilitate washing.
Easy way: prepare and pasteurize the mix with the batch freezer.
Optional Dispensing door, together with the Crystal program used for filling containers and jars.
Optional Water Filling to dispense the precise amount of water required, saving time and avoiding measurement errors.
Tray-lock mat facilitates extraction and variegation.
Customizable production menu.
Carpigiani's High Efficiency technology allows a reduction in production time and the consumption of electricity and water up to 30% compared to Carpigiani batch freezers of previous generations (30% compared to RTX models).
Accident prevention thanks to rounded corners.
Auto Defrost procedure for rapidly restarting production in case of power failure or accidental stoppage.
Optional Teorema: monitoring and diagnosis via the internet for easier assistance.
One-piece cylinder for maximum cleanliness and guaranteed hygiene.
Hot wash, detachable extraction chute and Scotch-Brite treatment of the steel sheet metal facilitate cleaning.
The delayed cleaning cycle guarantees hygienic by controlling the temperature of the cylinder once the gelato has been extracted.
Carpi Care kit & Carpi Clean Kit: request them from your dealer to keep your machine hygienically perfect.
Technical Characteristics
Beater
Multispeed
Gelato produced
Qty per cycle max. lt
15
Qty per cycle min. lt
3,5
Mix added
Qty per cycle max. kg
10,5
Qty per cycle min. kg
2,5*
Quantity per cycle | Programs
Tempered Chocolate | max. kg
12,5
Tempered Chocolate | min. kg
7,5
Cremolata | max. kg
10,5
Cremolata | min. kg
5
Crystal | max. kg
10,5
Crystal | min. kg
5
Slush | max. kg
10,5
Slush | min. kg
5
Topping | max. kg
10
Topping | min. kg
6
Yogurt | max. kg
12
Yogurt | min. kg
5
Zero+ | max. kg
9,5
Zero+ | min. kg
2,5
Electrical
Condenser
Water**
Hz
50
Ph
3
Volt
400
Fuse Size A
20
Rated Power Input kW
7,6
Dimensions
Dimension at base Depth cm
65
Dimension at base Height cm
140
Dimension at base Width cm
52
Net Weight kg
320
Note
Note
Production will vary depending on the ingredients used. Performance values refer to 25°C room temperature and 20°C water temperature in the condenser. *Quantity for "Excellent" program. ** Air condenser available with surcharge. The above dimensions and weight refer to the water cooled version. Maestro HE machines are produced by Carpigiani with a UNI EN ISO 9001 Certified Quality System. All specifications mentioned must be considered approximate; Carpigiani reserves the right to modify, without notice, all parts deemed necessary.
Artisan Gelato Case Study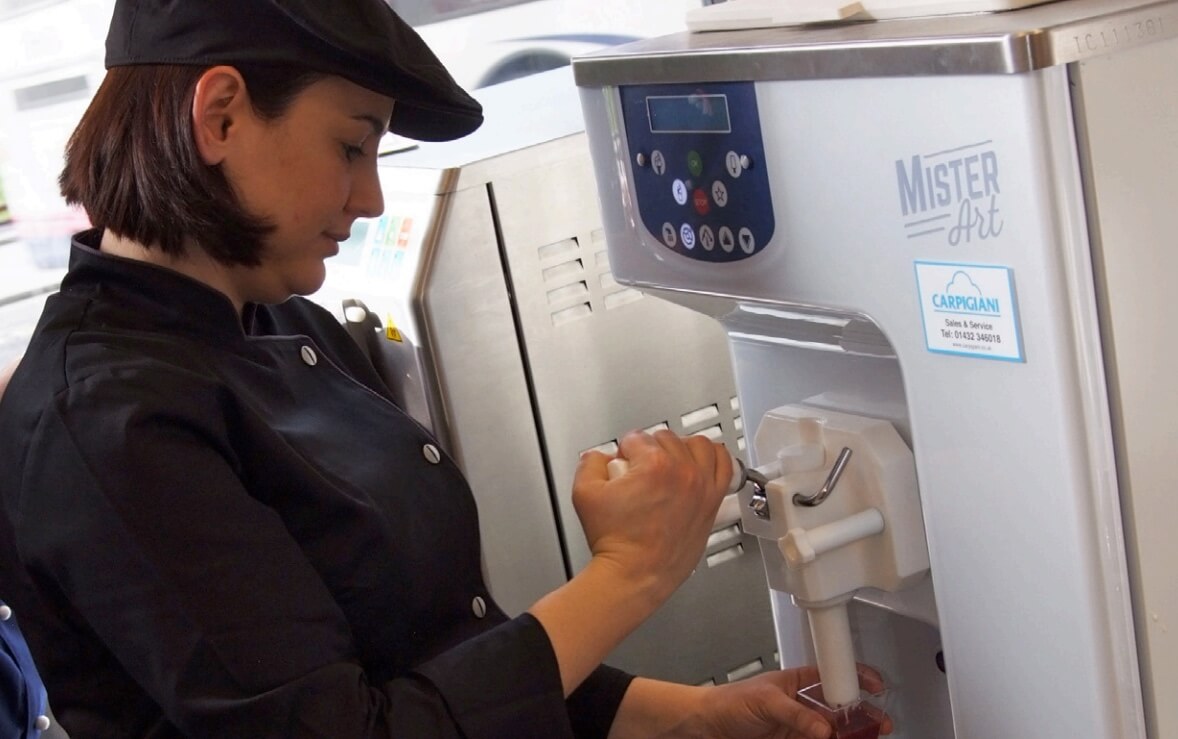 Customers Swoon for Bristols Finest Gelato offering
The brainchild of owner Bruno Forte, whose family have been producing real Italian Gelato for well over a century, Swoon's ethos focuses on using only the finest ingredients from around the world and combining them with a traditional process known for giving gelato its distinctive, smooth texture and delightful flavour....
Add Soft Serve to your food business