Artisan Gelato Case Study
Founded in 2014 by Antonio De Vecchi and Daniele Taverna, Gelato Village, located in Leicester's stylish, Saint Martins Square, offers true authentic, Italian Gelato made using some of the finest ingredients available.
Originally from Turin, Italy, Antonio and Daniele established the business on a simple passion for creating the best flavours, something that can only be achieved by sourcing the world-class ingredients. Committed to never using artificial preservatives, flavours or emulsifiers, the team freshly make their gelato every single day. This dedication to qualify is something that Antonio remains devoted to commenting:
"With our Italian heritage and passion for food, launching Gelato Village in 2014 was something Daniele and I had been planning for a while. We knew from the outset that for our business to deliver true, authentic gelato we both adore so much, we not only needed to formulate our own recipes, but those recipes needed to be made with only the finest ingredients. After training at the prestigious Carpigiani Gelato University in Italy, we set about sourcing these ingredients. Whether grown locally or sourced from around the world, we were looking for the very best. For example, our milk and cream comes from rare bread, Red Poll cows at Belvoir Ridge Creamery and is delivered to us daily, giving our gelato its incredible flavour and wonderful texture. We source our pistachios from a supplier in Bronte, Sicily which considered by many to be the finest in the world, while the chocolate by many to be the finest in the world, while the chocolate we use in our gelato and sorbet comes from a grower on the Ivory Coast, where the climate for growing cocoa beans is perfect year round."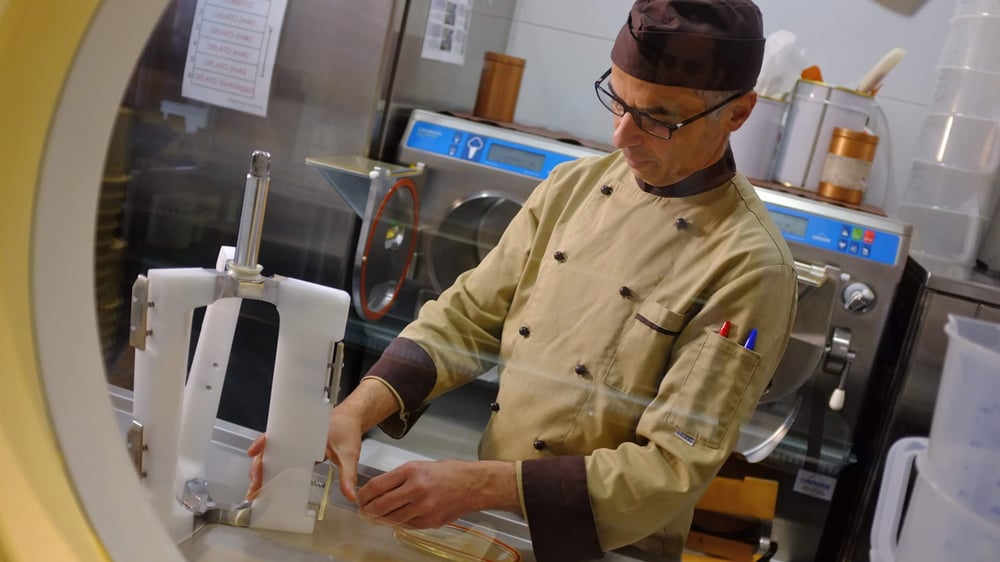 Find Out How Carpigiani Can Help You
We have helped hundreds of companies from Start-ups to large group and National accounts to optimise their dessert offering and re-inspire their menus.
Talk to us to find out how we can help you.
Archie's
See why Archie's partnered with Carpigiani at their cool hang-outs for food lovers and those with a sweet tooth alike.
Dolly's Desserts
See why Dolly's Desserts partnered with Carpigiani for their dessert shops... serving cookie dough, brownies, sundaes more - see video
Rassams Creamery
Rassam's Creamery is a spectacular story showing how a simple idea can lead to an up and coming successful franchise